India has got its first Android-based smart phone today. Tata DOCOMO, the GSM arm of Tata Teleservices, has launched the first Android-based smart phone of Samsung, the Samsung Galaxy i7500, in India on Wednesday.
The avant-garde Samsung Galaxy sports a 3.2" AMOLED full touch-screen as well as7.2 Mbps HSDPA with WiFi connectivity. This enables the user to access Google™ services and enables comprehensive Web browsing at amazing speeds.
"Tata DOCOMO is a young brand that recently rolled out GSM services across eight circles (so far)," Mr. Deepak Gulati, President, Tata DOCOMO, said. "When we launched our services, we had promised our subscribers that we would bring to them the best products and services – products that will stand for innovation and a pioneering spirit, and which would offer them convenience and simplicity. Living up to that promise, we are launching the Samsung Galaxy with one-touch Google Mobile Services (GMS). This launch marks the beginning of Tata DOCOMO's relationship with Samsung. We will continue working together to launch more innovative mobile offerings for Indian consumers on the Tata DOCOMO platform," he added.
Announcing the launch, Mr. B D Park, Director of Telecom, Samsung India Electronics Pvt. Ltd stated that, "We are very happy to be launching the Company's first Android-powered mobile phone with Google Mobile Services in partnership with Tata DOCOMO. This powerful device will allow consumers to fully experience all mobile based Google applications on this phone. With its innovative features, Samsung Galaxy will offer a strong value proposition to discerning Tata DOCOMO customers."
Samsung Galaxy i7500 provides the user the potential to access the comprehensive Google Mobile Services suite which includes Google Maps, Google Search, Gmail, YouTube, Google Talk, Google Calendar as well as Android Market.
The Samsung Galaxy, which is equipped with a GPS integrator, proved the user to utilize Google Maps features like My Location, Google Latitude, local search as well as detailed routes descriptions.
"Applications from the Android Market can be downloaded and installed on to this mobile over the air, without the use of a PC, thereby opening up an entire new world to the user." states Mr. Asim Warsi, GM- Marketing, Samsung India Electronics Ltd.
This has been launched in all the DOCOMO circles with an offer of 500 MB free download per month, for a period of six months.
"At Tata DOCOMO, our promise has been to provide a refreshingly different experience to our fast-growing customer base," Mr. Sunil Tandon, Regional Head, Tata DOCOMO, said. "The launch of the Samsung Android is part of that endeavour—to provide subscribers with a world-class product that lets them experience the vast range of applications of the Android Market."
Samsung I7500 flaunts all the latest multimedia features. The large and vivid 3.2" AMOLED display ensures brilliant representation of multimedia content and an enjoyable full-touch mobile experience.
It supports a 5-megapixel camera along with numerous multimedia codec formats, the I7500 sports a long battery life (1500mAh) and munificent memory capacity (Internal Memory of 8 GB and Expandable External Memory up to 32 GB). The phone also flaunts a slim yet compact design and is just 11.9 mm thick.
Samsung Galaxy is meat exclusively for the constantly moving tech-savvy and up market consumers, who are always need to keep themselves updated with the world.
The Samsung Galaxy is one of the most innovative and high-quality Android-powered devices on the market. The i7500 is a cutting –edge smartphone from Samsung. The handset is said to feature a 3.2-inch AMOLED touchscreen display. It also offers support for 7.2 Mbps HSDPA and WiFi connectivity. The Galaxy promises to provide access to Google Mobile Services and other Internet sites at a faster speed.
The familiar Google services on the PC are ready and waiting on the Samsung Galaxy including: Google Search™ Google Maps™, Gmail™, Google Talk™. It also has an integrated GPS receiver meaning you can make full use of Google Maps to guide you in the car or on foot.
The 5 megapixel camera promises to capture all the special moments in vibrant colors. The internal 8GB memory can be expanded up to 32GB. This huge memory allows users to enjoy their multimedia content virtually anywhere. The 1500mAh battery of this handset claims to provide a longer battery life. The slim and compact form factor further enhances the appeal of this handset.
Tata DOCOMO is very young in market and available in 8 circles only at the moment and growing as 1 paisa tariff is quite impressive. They are bringing this phone in order to capture tech-savvy market.
Samsung Galaxy i7500 Features:
3.2-inch AMOLED touch screen with light sensor

Enhanced touch sensitivity and anti-scratch Display

Google Chrome-Lite browser0

5MP camera

8GB of internal memory

GPS with Digital Compass

All Google Services like Search, Gmail, YouTube, Google Calendar, and Google Talk

HSDPA 7.2Mbps / HSUPA 5.76Mbps (900 / 1700/ 2100MHz)

GSM/EDGE / GPRS (850/ 900/1800/1900)

528MHz CPU with 128MB RAM running latest Android OS v1.5

3.2" HVGA(320×480) AMOLED Screen

5 MP Camera with Auto Focus & LED Flash

Bluetooth 2.0

WiFi

MicroUSB

3.5mm audio jack

1500 mAH Battery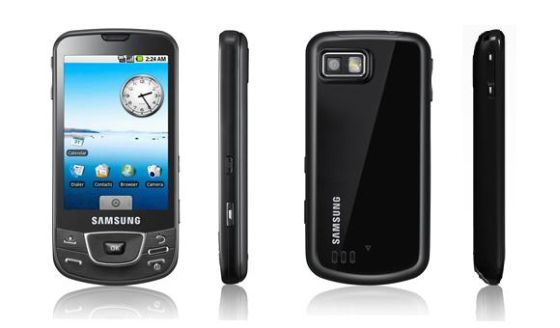 The Samsung Galaxy i7500 will be made available at an introductory price of Rs. 28,990.